The CriticalMaker.Space team thought it might be helpful to share a few examples of Critical Making, from our own practice and from projects that we find inspiring.

We purposely resist defining "critical making" with too much specificity. In the nascent scholarship on critical making in the Humanities, authors explore the relationship between process and end product; the role of collaboration; the entanglement of theory and practice; the relationship between art, craft, design, and making; and connections between makers and communities, among other things.
We hope you'll join us in continuing this exploration.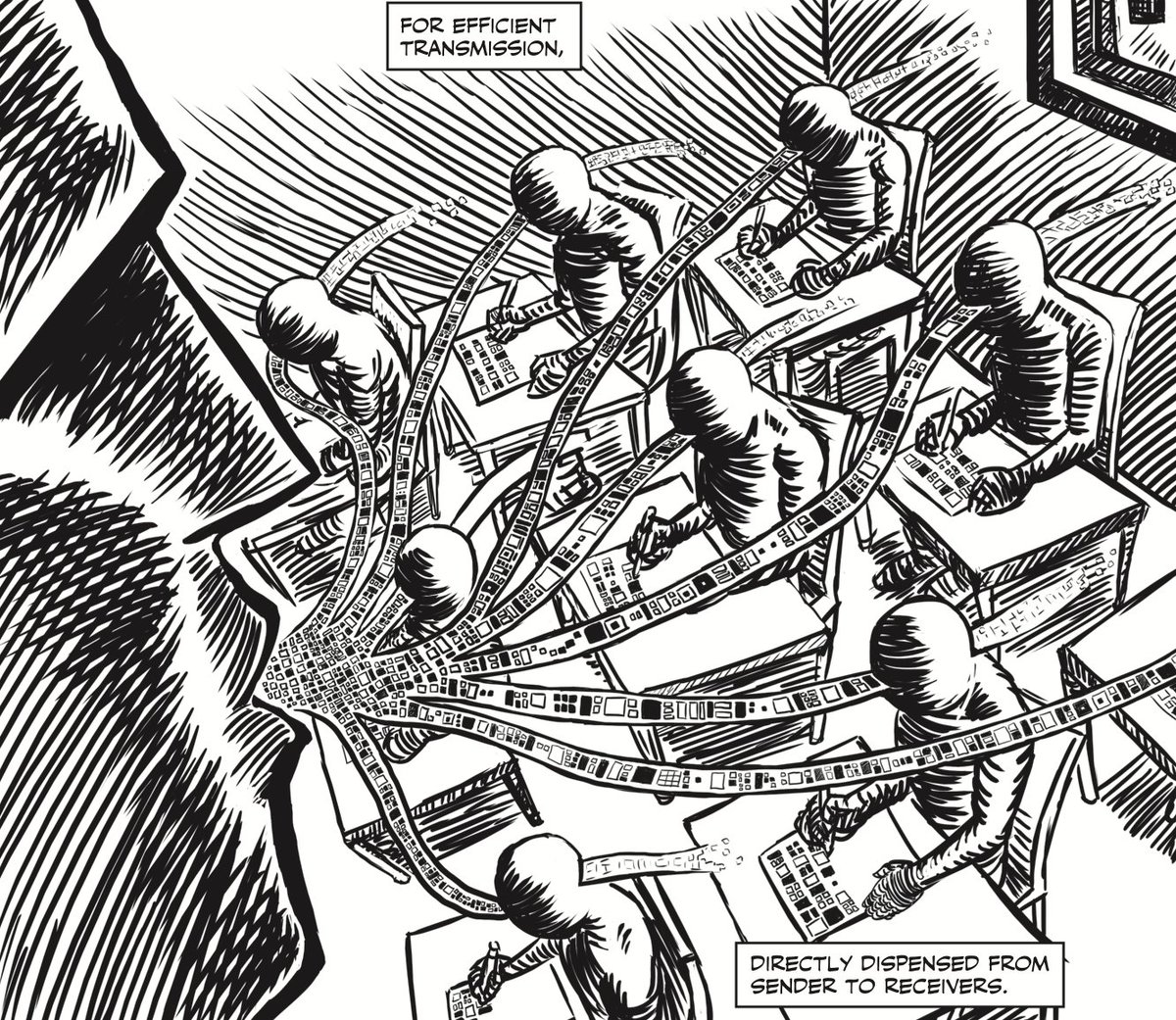 Nick Sousanis' dissertation as comic trades textual density for visual density, inviting readers to reconsider expectations in both pedagogical and scholarly communication. The images act as visual citations as well as theoretical arguments, layering provocations and critique of the elevation of text. The work is in the tradition of scholarly comics (Scott McCloud's work being most notorious), but particularly notable for its imagery and metatextual argument about how visual making and thinking provides a mechanism for shifting perspectives and challenging assumptions.
A collaborative experiment in digital-physical integration. Four working QR code quilts, each leading to a procedurally-remixed page with content about its fictional maker. This installation thus combines two traditions of meaning: one analog, the language and traditions of quilt blocks, and one digital, the interconnected hypertext trails of communication unlocked through finding the QR codes. Hypertext elements were built in Tracery (an open-source library created by Kate Compton). Shared as an installation piece at the Electronic LIterature Organization Media Arts Show, 2018.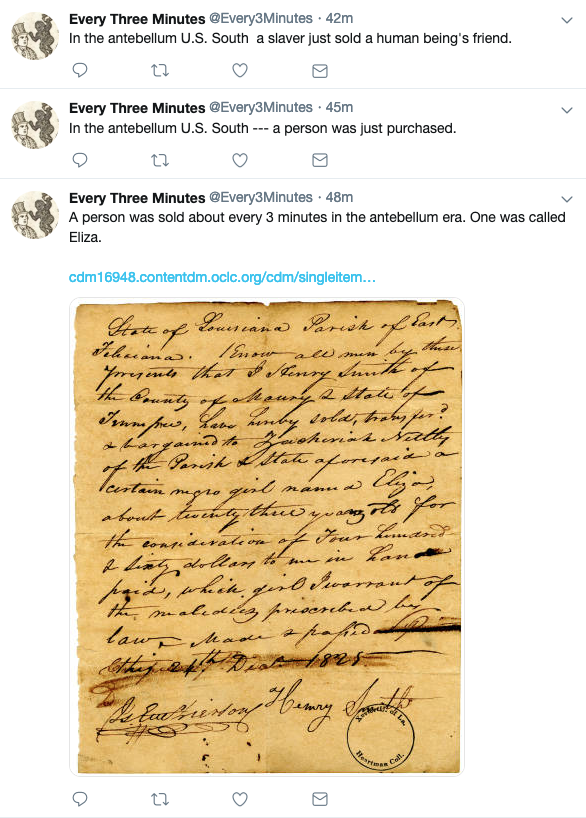 "Every three minutes, a human was sold into slavery in the Antebellum US South." This is the governing concept for Caleb McDaniel's Every Three Minutes protest bot that, in Sean Graham's words "confront[s] us with hard truths [and] in [its] inhuman persistence, call[s] out for justice." As the short selection above illustrates, this Twitter bot tweets every three minutes, reminding — or as Graham says, "shaming" — its followers with the truth that, in the Antebellum South, a person was just sold. Besides the frequency with which these reminders show up in a follower's feed, a striking part of the bot's efficacy is in its phrases that remind its followers of the humanity of the enslaved. Tweets like "In the antebellum U.S. South, a white slaver just bought someone's friend," or "#OnThisDay in history, a slaver just sold a black person's child" rehumanize the otherwise dry reporting of an apparently objective statistic. The two gifs above come from two chapters in a series of experiments thinking about ways to more closely tie the pleasure and creativity of poetic interpretation, with the pleasure and creativity of poetry. The series is based on the homo-phonic poem, "Kirstenography" by Harryette Mullen (part of her Sleeping With the Dictionary collection), a homophonic poem where there are always two versions at play: the version presented visually as words on the page, and the version heard in the oral or subvocal performance (in the case of silent reading). With each click, a new line of text appears from the left and right in simultaneity. One line of text is Mullen's original poem, and the other is a homo-phonic interpretation. Each chapter engages different ways to perform the interpretation alongside the poem, while taking pleasure from the ways language fills the screen. The performances are done in Stepworks, created by Erik Loyer, and are playable at the links above.
For The Resisters (2014) Alex Agloro codesigned an anti-racist, location-specific alternate reality game with local youth in Providence, RI. The game centered on the history of local social movements and involved archival research, game development, and participatory design. In writing about the project Agloro notes the ways in which the project called for radical patience, stretched the contours of research as it is traditionally defined in the academy, and troubled the boundaries herself and her youth collaborators as she occupied multiple roles as codesigner, mentor, and friend.
The Stitch n' Glitch was a monstrous embroidery project that took place in October 2018. Four different creative studios at UT Dallas collaborated to produce a 12-foot long collage of images of feminist media art that participants were invited to stitch on. The event was staged over two areas: the "kitchen table" provided a space of gathering, learning, and communing before participants moved to the "studio" to add stitches to the tapestry. In addition to participant-stitches, the tapestry also had fabric cutouts of feminist iconography and a soft circuit that played "the future is feminist" in morse code when a button was pushed.
One more point we'd like to make is that critical making also includes critical curation. To reveal/ articulate meaning through making – beyond use value – reveal cultural, social and economic meaning
Critical praxis of making will lead you to question status quo
It could be a journey, a process – leading to a product that's either considered complete or unfinished – but the meaning must unravel and reveal – rupture and crack… make us think …
Below are links to two such examples of making and curation.
Techno Imaginations: Internet Lore in Asia